OK, so not a lot on the hobby front lately,but this is
kind of
hobby stuff. Well, a lot of the skills are transferable, so I can make that claim.
Obviously, being Christmas, we get a bit festive and many of us a bit creative. As I'm about to have a child, I thought I would introduce
my
childhood tradition to my nieces and nephews. The tradition was that after caroling on Christmas Eve, we would all gather around the gingerbread house and then with much anticipation, pound it back into the powdery constituents from whence it came.
This required a gingerbread house, so I got to work.
First, I (badly) designed plans for the house. Usually I wing a building like this, but gingerbread is far less abundant than cardboard or foam-core, so planning was actually on paper. This didn't help much, and it still took two builds to get the thing standing.
I am disdainful toward A-Frame gingerbread houses, so I insisted that mine have four walls
and
a roof. In hindsight, it wasn't far off an A-Frame:
Christmas supplies. Also, the gingerbread house pre-roofing.
Once the icing had set (I used a royal icing mixture 2 egg whites to 3 cups of icing sugar. Not sure how it keeps, but it's rock-solid), I added the roof. At this stage, I realised my roof was too short and had to re-build. After adding the roof a second time and letting it dry overnight, this is what I had:
With roof, just before caving-in.
As I started to decorate, the roof caved in again. I was beyond a re-build, so I just went for a ruined gingerbread house instead. Lebkuchen Manor is the latest victim of an orc Waaaagh!
Disappointed as I was, when you keep decorating it and sprinkle the icing sugar over it, it doesn't look too bad!My only regret now is that I didnt' stick some more musk under the roof to simulate broken rafters.
I'll get a photo of the smashed house later!
Meghs and I also made an army (49 is an army, right) of ninjabread men. You know, gifts for people. started backing yesterday at about 1530 and went to bed at 2330. Egad!
Un-iced ninjas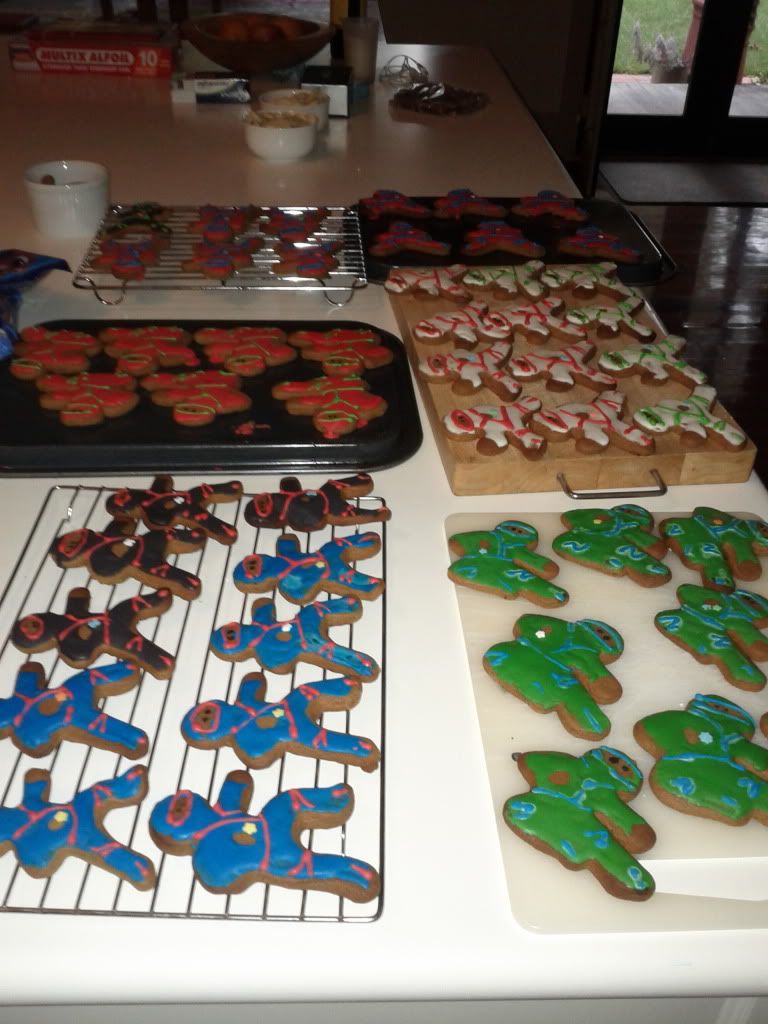 Ready for battle. Or espionage, whatever!
Merry Christmas, y'all!